Defining audiences
This is the full dashboard of the AI-Based audience that was created earlier. Let's get on with the nuts & bolts of the dashboard.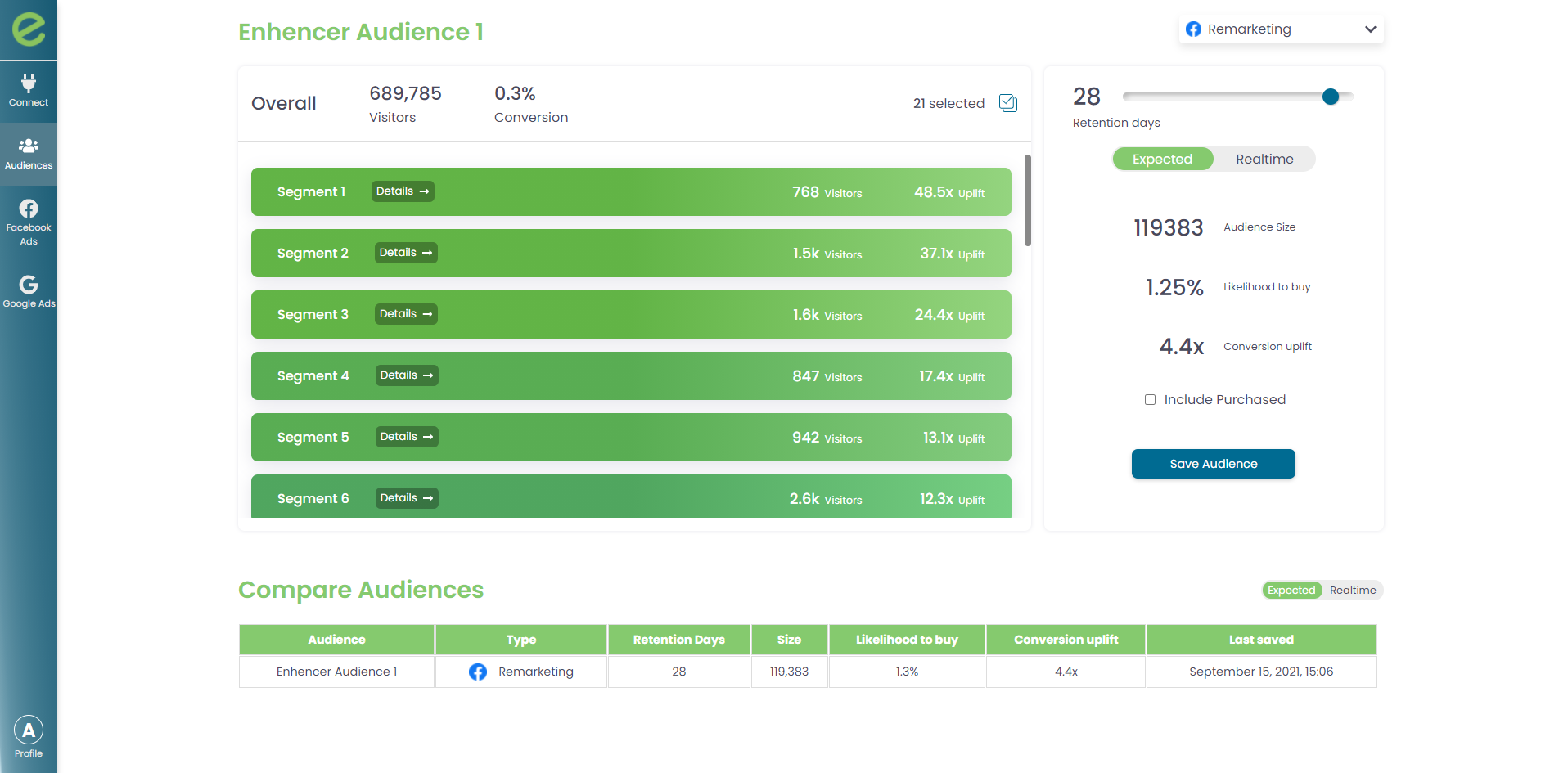 Overall: The overall bar represents the total number of visitors to your website and the overall conversion rate for your website and website visitors.
Below the overall bar, you will see a whole lot of segments. Key ınformation to look for is:

At the right corner of the segments, there is the Uplift value. Uplift represents the conversion rate of the given segment is XX number of times the overall conversion rate of the website. The higher the number the higher the quality of this segment.
Another metric to look for is the number of visitors present in the given segment, which is written right beside visitors.
The segment insight can also be viewed by simply clicking the Details button in the given segment.
All the segments are sorted according to the uplift value of the corresponding segment. Meaning the segment with the highest uplift is located at the top and vice versa. While selecting the audience, it is recommended that we select all the segments whose uplift is 1 or higher. This way we are only selecting the visitors who are more likely to buy something from the website. This ensures a relevant audience for your brand and products.

On the right side of the dashboard, you will see some details about the selected audience. There are two tabs, Expected and Realtime. The Expected tab shows the details about the AI Audience selected from the segments. Realtime shows the details of the overall visitors from the website.
Audience Size: This represents the total number of visitors selected from the segments.
Likelihood to buy: This represents the conversion rate of the selected audience. You will notice this is much higher than the overall website conversion rate. This is what shows a good audience selection, we want it to be as high as possible without compromising the Audience Size a lot.
Conversion Uplift: This shows the total uplift of the selected audience in terms of conversion rate. This means the selected audience has XX times higher conversion rate than the overall website visitor.
When a proper audience is selected all you have to do is click the Save Audience button. This will send the audiences to Facebook ads and Google Ads. On a side note, Enhencer will periodically update the recent trends and take the new website visitors behaviors into account. This way your adueince will always be most updated based on their behavorial changes.