Connected data overview
Once the integration is done using the most suitable method mentioned earlier, you will be able to track the overview of the collected data.

From the left panel of the enhencer dashboard, you can locate Connect and then click the Overview tab to view the collected data summary.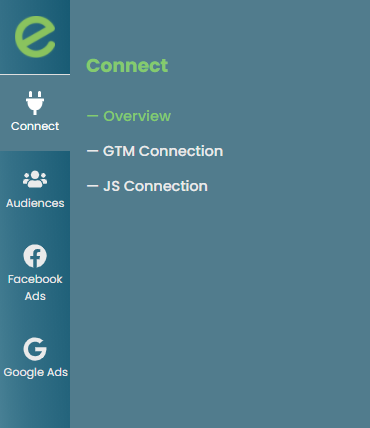 The summary of the collected data will be shown in the middle part of the dashboard. While everything is laid down as it is and very self-explanatory, there are two factors to mention here:
Under the Connect Overview Heading, you will find a calendar icon saying since a certain date. This means the data displayed below is collected since the mentioned date in the box, you can change the date and see certain aspects of the integrations and check whether it is being collected right or not.
Create Audience button can be used to run the AI algorithm to create the target audience from the collected website data. This algorithm will be automatically run periodically, however, this button can be used to manually run the algorithm whenever needed.