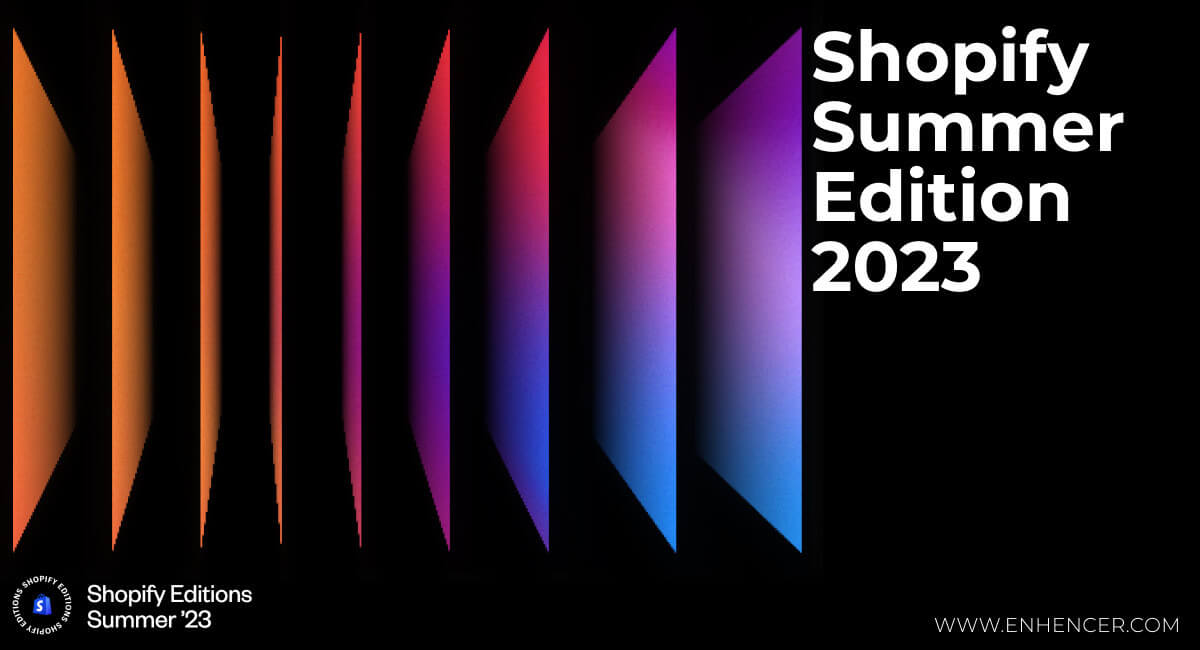 Shopify Summer Edition '23
Introduction
The world of e-commerce is ever-evolving, with businesses constantly seeking innovative tools and features to stay ahead in the competitive market. With the much-anticipated Shopify Summer Editions 2023, merchants have much to look forward to as Shopify introduces many new and powerful features designed to enhance the online shopping experience. This blog will explore Shopify's Summer Editions 2023 to revolutionize audience targeting and engagement.
Shopify Summer Editions 2023: Embracing the Future of E-commerce
Shopify Editions Summer 2023 introduced many exciting updates and changes that can benefit businesses using the platform. Here are the top ten most important changes and updates announced during this edition:
Shopify Flow available for Basic plans: Shopify Flow, an app that enables powerful automation, was previously limited to Shopify Plus merchants. Now, it is accessible for Shopify Basic stores for free. This allows store owners to set up automation like welcome emails or delisting sold-out products, improving overall efficiency.
Shopify Subscriptions (new app; early access only): The new Shopify Subscriptions app offers customers the option to subscribe to products for free while granting them basic subscription actions such as cancelling, pausing, or updating payment details. Though it is in early access, the app holds excellent potential in capitalizing on the subscription economy trend in e-commerce.
Shopify Bundles (new app): The Shopify Bundles app allows merchants to create product bundles natively, seamlessly integrating bundled products into the inventory when customers make purchases. Unlike many third-party bundle apps, this app is free, making it an attractive option for store owners.
Shopify Marketplace Connect ("new" app; ex-Codisto): The Shopify Marketplace Connect app simplifies uploading products to significant marketplaces like Amazon, eBay, and Walmart while automatically synchronizing inventory, orders, descriptions, customers, and pricing. This app is a redesign of the Codisto app, offering a smoother experience for merchants.
Theme flex sections (coming later this year): By introducing theme flex sections, Shopify continually gives merchants more control over their storefronts. These enhanced sections enable merchants to edit and customize their storefronts with drag-and-drop functionality easily.
Shopify Magic and Sidekick (AI capabilities): Shopify Magic toolbox, including the AI bot Sidekick, empowers store owners to run their businesses more effectively. The AI tools enhance Shopify Inbox by generating automated replies and FAQs and assisting with writing better emails and product descriptions.
New Checkout Functions and checkout features (Shopify Plus only): Shopify Plus stores benefit from 17 new APIs for developers and a compelling product roadmap for Checkout Functions. These updates enhance the checkout experience and offer features like address validation, custom fonts, upselling subscription, pre-orders, and an improved checkout editor.
New B2B features (Shopify Plus only): Shopify is actively improving the B2B segment, providing new tools for businesses with specific needs. Notable B2B features include native volume pricing, storing B2B customer credit cards, PayPal support for B2B, and quick order lists.
Store differentiation (context) for specific markets: The theme editor now includes a powerful feature allowing customization of specific pages, elements, or blocks for particular needs or B2B segments. This facilitates better localization of storefronts for specific regions, providing a more personalized shopping experience.
Faster storefronts by 30%: Shopify has significantly improved storefront speed, resulting in a 30% increase in successful Time to First Byte (TTFB) benchmarks. These changes include single-domain hosting for static content and simplified lazy loading for themes, ultimately enhancing the user experience.
The Shopify Editions Summer 2023 update significantly enhanced AI capabilities, B2B features, and new apps like Subscriptions, Bundles, and Marketplace Connect. These updates aim to provide merchants with more tools to optimize their businesses and improve customer experiences on the platform.
Enhencer's Power into Shopify's New Features
Enhencer, an innovative AI-powered platform, perfectly complements Shopify's Summer Editions 2023 updates. By automatically collecting and analyzing website visitor data, Enhencer employs advanced AI algorithms to segment visitors based on their behavior and purchasing potential. This synergy allows merchants to identify the most relevant and optimized target audience for their marketing campaigns.

Imagine seamlessly integrating Enhencer's insights with Shopify's theme flex sections, enabling merchants to craft personalized shopping experiences based on enhanced audience segmentation.

The evolution of B2B features in Shopify Plus aligns well with Enhencer's focus on enhancing ROAS and conversion rates. With Enhencer's ability to analyze visitor behavior and predict purchasing likelihood, Shopify Plus merchants can leverage these insights to tailor their B2B strategies for maximum effectiveness.

As Shopify's storefront speed improves, Enhencer ensures that each interaction is more meaningful by helping merchants target the right audience effectively. By combining Enhencer's data-driven insights with Shopify's fast and responsive storefronts, merchants can provide an unparalleled shopping experience that drives conversions.
Wrapping Up
The Shopify Summer Editions of 2023 have ushered in a new era of innovation and empowerment for businesses utilizing the platform. With over many updates, Shopify has introduced transformative features and functionalities tailored to various merchant requirements.

The confluence of Enhencer and Shopify Summer Editions 2023 signifies a pivotal stride in e-commerce innovation. The strategic alignment of Enhencer's AI-driven audience segmentation and behavior analysis with the latest Shopify enhancements presents merchants with an unparalleled opportunity to optimize their marketing campaigns and propel their businesses to new heights within the ever-evolving realm of e-commerce.

The extension of Shopify Flow to encompass Basic plans equips many store owners with the means to streamline their operations through automation. Simultaneously, the eagerly anticipated Shopify Subscriptions app capitalizes on the burgeoning subscription economy trend. Additionally, the introduction of Shopify Bundles provides a native and cost-effective avenue for crafting enticing product bundles.

Shopify's unwavering commitment to bolstering the B2B sector and introducing novel AI capabilities like Shopify Magic and Sidekick underscores their steadfast dedication to furnishing merchants with cutting-edge tools. Moreover, the imminent arrival of theme flex sections promises merchants an augmented degree of control over their storefronts. At the same time, the Store Differentiation feature fosters more personalized shopping encounters tailored to distinct markets.

The notable 30% enhancement in storefront speed is a significant achievement, underscoring Shopify's persistent drive towards optimizing user experience. In summation, the Shopify Summer Editions of 2023 have delivered a comprehensive and dynamic package of updates revolving around AI, B2B, and the debut of captivating new applications. This resoundingly solidifies Shopify's stature as a preeminent e-commerce platform. Merchants can anticipate a more streamlined, adaptable, and fiercely competitive ecosystem, propelling their enterprises forward in the ever-evolving e-commerce landscape.
Google Ads Bidding Strategies
The Art of Storytelling in E-commerce: How to Connect Emotionally with Customers