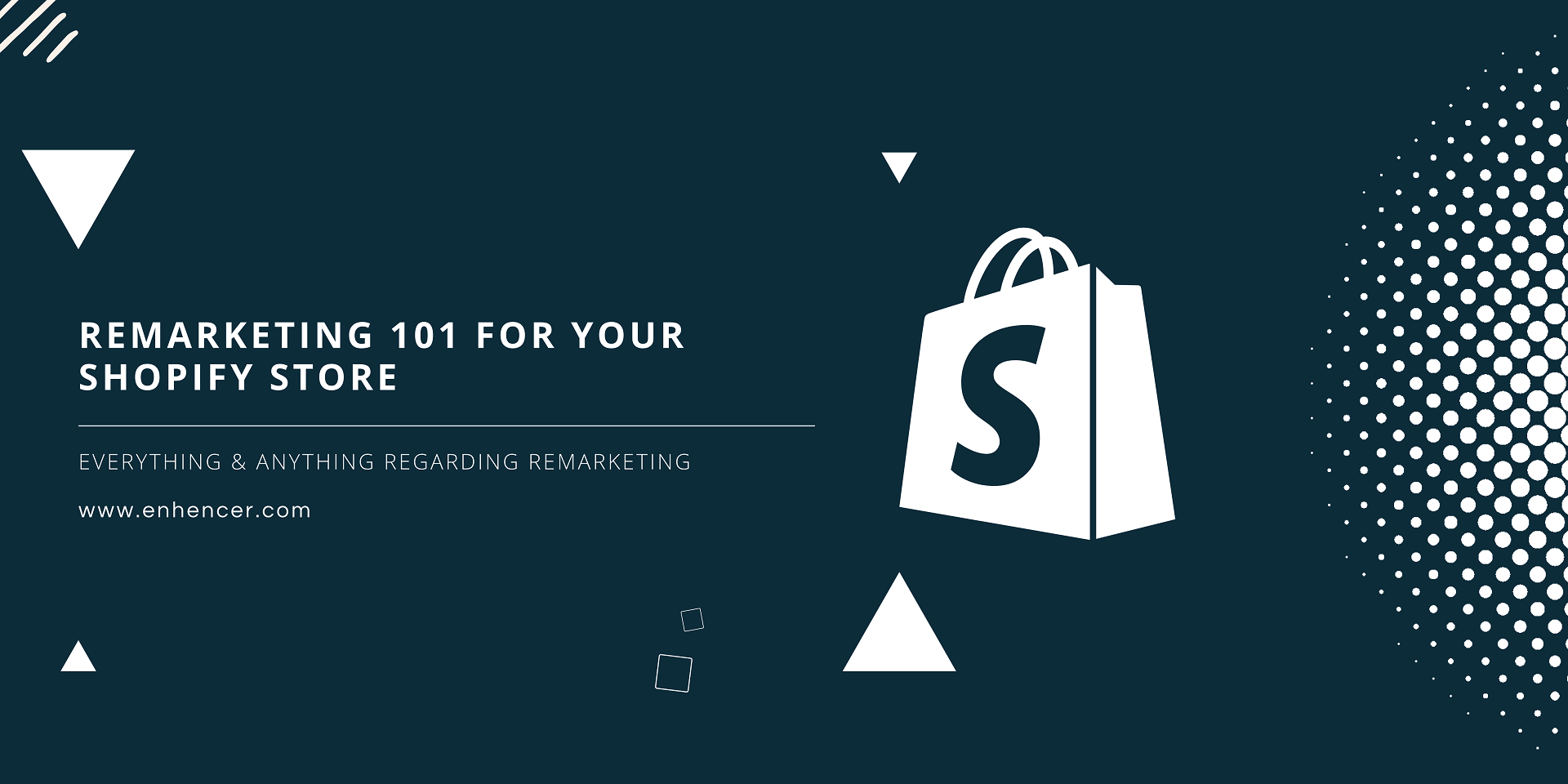 Remarketing 101 for your Shopify Store [Scale-up Shopify Part 4]
Blog Series Overview
Shopify is one of the largest, if not the largest, e-commerce platforms in the world. At the time of writing this article, there are more than 1.5 million Shopify merchants and 3.75 million Shopify websites. This number is growing exponentially every year. However, almost 50% of these stores are small in terms of size and revenue. While setting up a Shopify store is quite easy and takes just minutes, it is not quite as easy to grow & scale to a larger company. There are certain obstacles and non-technical hardships along the way that no one talks about. We aim to help these smaller-sized companies become more successful in Shopify. We are launching a new series of informative blogs. This is part 2 of the series, you can reach the other articles directly from below:
The 7 Golden Steps to Scale & Grow your Shopify Store:
Part 4: Remarketing 101 for your Shopify Store
Part 6: Getting Better Returns for Online Ads Spendings
Part 7: How to Grow to a Large Shopify Store
The links will be updated once new blogs are published.
Qualification & Justification
Firstly, an introduction is in order. This blog is a collaborative work with Sedef ARIK, visit her profile for more amazing stories. Why would you take our points of view as a credible source of information? Well, I have been working as a data scientist in SaaS (Software as a Service) company, named Enhencer, for more than 4 years. Our goal as a company is to help e-commerce companies to dig out valuable visitors as their target audience from their website traffic and improve their returns on marketing campaigns. As an individual and as the company we have worked with many Shopify store owners ranging from small to large. We have encountered and solved many problems faced by these companies and helped many companies go from small-sized to larger sizes. As a result, we have seen a fair share of different scenarios that can emerge under different conditions.
Aim of this Article
In parts 2 & 3, we explored the ways of generating quality traffic for the Shopify store. But what to do after you get all these traffic? That's what we will focus on in this article. What purpose does remarketing serve, and how to do it in various ways?
Why Remarketing is Necessary on Shopify?
Just like any other e-commerce website, remarketing is essential for any Shopify store. It is the building block of modern-day marketing.
It's hard to expect people to buy from you on first contact. Factors such as product/brand awareness, whether various sensitivities are met in the service or product, as well as modern man's time constraint, focus problems, and the abundance of stimuli are also involved.
In any e-commerce website, not every visitor that comes to the website purchases something. You need to pursue those visitors and reach them using an online ad platform as a remarketing strategy. Before people buy 'the brand', they need preliminary information. It often takes much more than a single interaction before a visitor becomes a loyal customer. Consider these:
These people came to your website, may it be organically, using google search, or through paid traffic campaigns. In other words, they came knocking on your shop door.
You need to convert as many visitors into paying customers as possible. To do so, you have to convince them of your product quality and brand. One way of doing that is using remarketing strategy. Reach out to the people who have already visited your website and products.
Remarketing System on Shopify
Remarketing is the process of using ads to reach visitors or customers after they leave your online store. Remarketing is an effective marketing strategy you can use to increase your eCommerce sales by re-engaging with potential customers.
Remarketing ads are a critical method for retaining customers, creating loyal customers, and increasing conversions in sales volume by bringing the product together with the relevant person.
Observable-measurable results of remarketing on the Shopify Store include:
The brand is known by more people and is in the center.
When customers aren't browsing your site or social accounts, they can interact with ads. Unlike other forms of communication (SMS marketing, push notifications, etc.) that can do this, retargeting ads is a simple yet powerful call that requires no intervention.
When you retarget your potential customers with relevant campaigns, they will be more likely to return to your website to continue shopping. This increases your website conversion.
It increases the probability of a website visitor buying something, completing the sale — conversion.
Remarketing plans should include the following steps:
Research: Gathering feedback and analyzing data. In other words, understand the terminology called Reaching the right audience.
Finding the right message to convey, the appropriate sales strategy, and applying it.
Creating discount-promotional campaigns.
Launching the Advertisement campaign.
How to create remarketing campaigns for the Shopify store?
First, you need to choose a platform to reach people with. Currently, the most popular two platforms are Facebook Ads & Google Ads.
These two have a huge reach with their own platforms. More than 2 billion people log into Facebook every month. Google handles over 90% of the global search engine market share.
Facebook Ads
A rundown of the steps:
Facebook Bussiness Manager: First, you need a Facebook business manager and Facebook pixel set up for your Shopify store. Shopify's Facebook channel can be used to create Facebook marketing activities directly from the platform.
Product Catalog: Secondly, Products can be synchronized with your catalog and made available on Facebook so that customers can shop directly from their newsfeeds. Shopify explains the various Facebook retargeting options and which website visitors you should retarget for the best possible results.
Custom Audience: Create Custom Audiences on Facebook Ads for your remarketing campaigns. These audiences can be all website viewers, content viewers, product viewers, add-to carts, etc. Note that target audience selection is the most important part of the process. Here is an article defining how to select and compare different target audiences in Facebook Ads: compare-different-audiences-for-facebook-ads
Create Ad-set & Ad Creative: Create a conversion-type campaign and create attractive & relevant ad creatives, and you are good to go. There are other sorts of tweaking you can do, but for that, please keep an eye on the upcoming blogs where we will explain in detail.
Here is a detailed tutorial for Facebook Ads: https://www.youtube.com/watch?v=M77Ia2VD_xI
Google Ads
Google Shopping is at the center of e-commerce, not to mention its dominance in search traffic. Therefore, this makes it an essential resource for Shopify stores. With Google Shopping and Shopify AdWords remarketing, you can directly track and advertise to your visitors.
With the Shopify Google channel all your products and information about your Shopify store are synchronized with Google Merchant Center. This means that your product listings can be updated directly from the Shopify admin profile.
The Steps are:
Install Google AdWords: To install AdWords Remarketing to your Shopify store, a code must be added at the bottom of the website theme. In the additional scripts of your liquid page and checkout section. It can be done using Google Tag Manager or by manually adding the code; follow the instructions from Shopify Help Page.
Custom Audience: This is again the most important aspect here. You have to create the target audience on Google Ads as well manually. These audiences can be all website viewers, content viewers, product viewers, add-to carts, etc.
Create Campaign: Create a GDN or Search Campaign based on your product type and brand. This can be an article of its own, so, therefore, keep an eye out for the upcoming blogs.
The most useful analysis on Google will be to get to know your website visitors. The visitor must be identified with continued attention. Each segment of your audience must be properly classified. The more precisely this distinction is made, the better the ad conversion. After selecting the Shopify Store,
Google prompts you to create an audience filter, such as:
Visitors of a page: visitors for a certain period.
Visitors visiting a page with specific URLs (helps you identify where customers are in your sales funnel)
Visitors who download/use your app or visit your store through the Shopify app
Visitors who watch, like, or subscribe to a Youtube video
Visitors who "abandon" their shopping cart
Demographic & Geographic information
Specific keywords that visitors type into Google's search engine
The list goes on and on. Just know that target audience selection is the most important and difficult part.
The Underlying Conclusion
The choice of platform, ad creative, budgets, and target audience, are subject to differ from brand to brand and product to product. The ad is delivered to your target audience(s) on Google/Facebook's own platforms or their display networks (at your choice). And if you always show your message to the relevant audience, you will be sure that your retargeting ad will reach the relevant audience and that the ad will not have a negative impact.

It takes more than one contact with the website visitor to generate sales. For this reason, retargeting easily show its effectiveness in increasing sales. That is, if the retargeting audience is correct!

No matter which choice you choose, just commit to it, just choose the target audience right and give the campaign some time to see some astonishing results. You will be reaching out to your website visitors in no time and convincing them to keep coming back and purchasing from your website. The next blog will discuss the ins and outs of the remarketing campaign attributes and how to optimize each element of the campaign in more detail.
Remarketing Tips No One Talks About [Scale-up Shopify Part 5]
Quality Traffic vs. More Traffic for your Shopify Store [Scale-up Shopify Part 3]