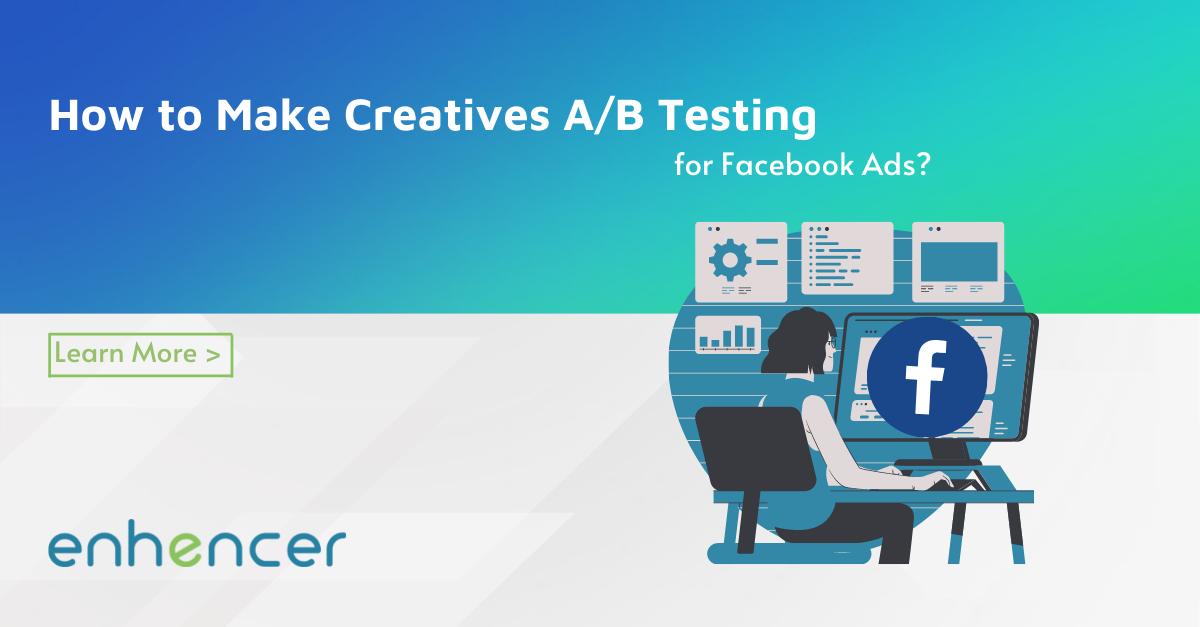 Creatives A/B Testing for Facebook Ads
A/B testing, known as split testing, is a method of determining which component of a creative, or a combination of them is more effective for the targeted demographics. Furthermore, you may test a variety of Facebook demographics and ad placements to determine the best target and reach them.
Creative testing includes lots of sub-experiments, it is more complicated than it seems. The creatives you are testing are divided into layers, and for a successful test which part you are working on should be highlighted. You can experiment with various messages, backgrounds, and formats. You can obtain a better understanding of which ad creative works better for your company by drawing clear lines between creatives you are comparing for the proper test results.
WHY A/B TESTING IS IMPORTANT FOR FACEBOOK
Facebook advertisements do not work when you do not spend time and make experiments in them. The launched campaigns should be made frequently, followed carefully, analyzed, and reported properly to take the right actions at the right time.
Sometimes even your best-performing creative for a period may stop working the next day related to algorithms or some causes that do not make sense and are hard to find an explanation.
After you figure out how to get the target audience information, you can start improving your test quality and get more beneficial results for lowering your costs. Keep testing consistent and you will find the targets that you want to attract in other audiences that you test with.
SETTING UP A/B TESTING ON FACEBOOK
When you first start using Facebook Ads, you might get lost with all the different options that you can choose to put in a test such as creatives, placements, audiences, etc.
Log in to Ads Manager: Navigate to the "Campaigns" tab in Ads Manager once you've logged in. You'll find a list of your currently active campaigns here. You'll also be able to see your previously created campaigns. You'll see an "A/B Test" in that menu. You should be running a campaign or a draft of it to make this test reach an end.
Duplicating: Highlight the portion under the title once you've picked the campaign or ad package you want to test to see the "Duplicate" option. Select the checkbox that indicates duplicate for the A/B Test. This option allows you to adjust variables to assess which gives better performance, selecting the right campaign is important.
Determining variable: In the next screen, you'll be able to select the variable and the copy you want. For creative testing, it's recommended to have one ad per ad set despite creative testing is being made on the ad level. The reason behind this is Facebook's automatic duplicating your ad set for the distribution of the budget. Facebook will propose which variable to work with when you duplicate an ad set that you can choose from that list. As our topic is about different creatives, our focus would be on body, images, CTAs (Call to Action), headlines, color, and format.
Publish: At the publishment process, you will have the previews of your tests. You can edit, make adjustments, and your last touches. Continue by clicking the button under your audience. From now on, these audiences will be in interaction with your test which means you must be completed everything and your ad must be in its final form for the test. Do not forget, you can obtain the most up-to-date information by revisiting your test in Ads Manager.
"Create A/B Test" window will appear after publishing and go with the option that you want. You can produce a duplicate of the campaign or ad set you developed, or you can compare it with the current asset in the ad account, by clicking "Get Started."
THINGS YOU NEED TO PAY ATTENTION
One variable only
As mentioned before, it has a crucial position to make the test successful. Working on one variable should be the focus of your split tests. In an experiment, a single variable makes it easier to acquire useful insights into what works.
Using multiple variables in your A/B test can result in longer, more expensive tests that aren't always beneficial.
Appropriate audience
The audience you use in split tests should be comprehensive enough during the test period. Facebook splits the audience to fit all adverts whether you think the audience is large enough.
Your advertising will have trouble if the sample size is too small for your budget and test length, which will raise your CPR.
Furthermore, when testing as creatives, you must choose an audience that has previously yielded good results in your campaigns. You must guarantee that your ad in the test is the only variable, not the audience or anything else.
Make your theory quantifiable
Your choice of statistics is a critical component of A/B testing Facebook advertising. Facebook asks you how you want to determine the winner in each split test you run.
Before starting your experiment, you must first formulate the question that you want to find the answer to. For each placement you want to test, you may restrict the hypothesis down to a statistic like your CPM.
Use distinctive variants
A/B testing aims to acquire information that will aid you in the campaigns that you plan to publish. Testing contributes to the process that you discover what works between your variations.
As mentioned before, not making major modifications to the parts you're evaluating under the variations will probably cause misleading findings that aren't informative enough to tell you why one variant won over the others.
Split testing requires a budget and structure of your test as it will yield data that will be valuable to your business for further projects and campaigns.
A single word in your creative's content, a specific color, or something else can show its impact on the audiences, it is important to be sure that you focus on these differences.
Establish optimal time ranges
Remember, you may specify a time range when setting up your A/B test. According to Facebook's recommendations, the test should be running for at least four days so that you will receive some results. Some tests and professionals suggest 14 days to get healthy results, but you can expand your test up to 30 days if you think 14 days is not enough.
Verify your results, Use the A/B significance test
Even if you get results and they seem perfectly normal, they need to be checked if they are giving us the proper information. The size of your test and results should be submitted to the significance test.
You'll need a significant number of results to draw conclusions from your A/B testing to verify that they're genuine.
Put your Facebook tests through an A/B significance test that you can find many options on the internet to see if they provide useful information.
Compare Different Audiences for Facebook Ads
How To Reduce Facebook Ad Cost?